Products » About our skis
Strong, efficient, with a great look, they are electrically controlled, easy to install. Built here in Quebec they can be adapted to any kind of aircraft that has wheels with axles.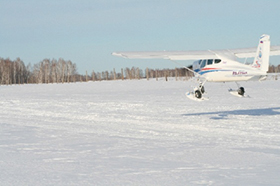 Many years ago, contemplating winter flying, I realised that there was no fully retractable wheel skis system for the sport aviation.

With a bit of naivety and lots of eager to see thing happening, I started working on several design and tried to nail down what would be the best retractable wheel ski. Chance has put a key person on my way. Pierre Rivest…My wife's father, who could tell you firsthand what skis, should be. Having flown bush planes for several thousand hours and wrote books on the subject (on sale here). So much knowledge! Skis were no secret to him.

So six years and nine prototypes later, we were ready to open to the world. Internet would take care of this for us. But again without help from a friend, things would have never got to this point. I had the chance to work with Larry Marshall (Quebec City) that was the first to put our first web site on line and got it fairly well connected to the rest of the world.

We have now sold skis in France, Belgium, Germany, Italy, Spain, Sweden, Finland, Norway, Moscow and St Petersburg(Russia), Krasnoyarsk and Novosibirsk (Siberia, Russia), Czech Republic, Alaska, all over Canada and USA.

The results are fantastic. Proof that efforts are always rewarded.
Next step is to convince you that winter is THE best flying season.
Why retractable wheel skis?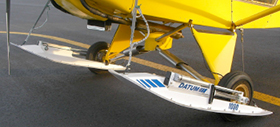 Why not? Should only the big commercial rigs benefit from their advantages?

I think that if it improves the ease of operations …Sport aviation should have them just as well.
Other types (Wheel thru and straight skis) are limited and most of the time becomes a good reason not to fly during winter.
Advantages from our electrically, retractable wheel skis.
Fly anywhere from and to any surface.
No spillage and contamination from hydraulic fluid.
No drag from tire hanging below the ski (Penetration skis).
Tire still works as a shock absorber within the ski.
Stretch the flying season by several weeks.
No being in a hurry to remove the skis at the end of season.
Mountain flying during summer time (Alps and other high mountains)
Winter is never boring with the good skis! (GRIN)