About » About Datum inc.
Datum Incorporated
Established in Quebec in 1992, Datum Inc. has over 20 years' experience in building and repairing recreational aircraft, as well as designing and manufacturing quality parts and products for its clients across the world.
President and CEO
Jean-Marc Augé
Jean-Marc obtained his ULM pilot license from FreeWind Aviation Flying school in Saint Lazar, Quebec, in 1986. His experience with aircraft began in 1990, after he and a group of friends started building aircraft in Ontario. After working as a diving instructor in the Caribbean while learning hang gliding in a Quebec hang gliding school (where he later became an instructor), he decided to move back home in Quebec and founded Datum Inc.
At that time recreational aircraft kits were starting to become popular, but most clients had neither the knowledge nor the ability to assemble them. Jean-Marc recognized the market need, seized the opportunity, and began a business assembling aircraft.
Our experience
Over the past twenty years, Datum Inc. has built 54 recreational aircraft in North America and including 41 Challenger ultralights, as well as the following series: Lazar, Kit Fox, Cavalier, T Bird, Decathlon and Aid Flyer.

Today Datum is one of the leaders in manufacturing and distributing retractable skis for recreational aircraft in North America and around the world.

Datum's first Ski 1000 series designed for the Challenger ultralight was such a huge success, it led to the building of more models: the 1500 series, the 2000Lite, the 2000, the 2500, and today the 3000 series and 3500. All Series can be fitted to either a tricycle LG (nose ski) or a conventional LG configuration (tail ski).
Datum Philosophy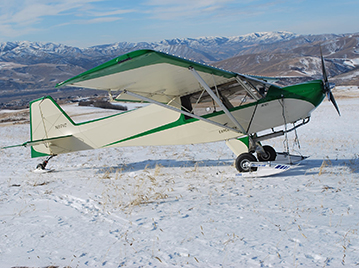 There is no substitute for quality.

Anything worth doing is worth doing well.

Simplicity is the foundation of every good system.

Each product and its components are
fully tested before marketing.

We specialize in custom-built aircraft, ballistic
parachutes, floats, and skis. We also service recreational
aircraft on site or at our facilities.